Services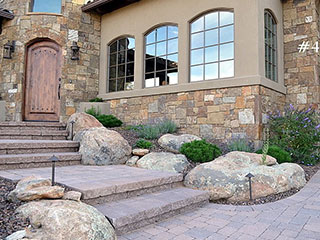 We at Autumn Blaze Construction are very particular in the way we run our business. This is why we have been able to build a very strong customer base in and around Prescott, Prescott Valley, and Skull Valley. Word of our expertise has reached customers in Chino Valley, Verde Valley, Sedona, and Cottonwood. We have successfully completed a significant number of projects here too.

Our company also serves clients in Camp Verde, Black Canyon Valley, Anthem, and the surrounding areas. The boulder walls and hardscaping feature we have built on properties here have added a distinct charm to the landscaping. The different services we offer include:


Boulder Walls
We handle all types of boulder wall installation such as the single walls, boundary walls, and multi-terraced structures. No project is too small or too big for our experienced team to handle. Our company provides custom solutions and you can rest assured that every feature will be designed to suit your aesthetic and functional requirements. If you are looking to add these special features to your landscaping we are the company to call. We can design and build boulder walls made of granite, sandstone, bluestone, flagstone or travertine. We will have detailed discussions with you to understand your vision and deliver boulder wall designs that meet those needs. Read More About Boulder Walls »


Celtic Walls
If you want to add a classic old-world look to your landscape, getting Celtic walls built is the way to do it. These features will be custom -designed for you giving you the flexibility to choose the styling and materials that will suit your preferences and tastes. We use top-quality Celtic wall blocks in our work. These look very akin to real natural stone and provide a rich and luxurious look at a more cost-effective price than natural stone. The wall blocks used to build Celtic walls are available in a variety of colors& sizes, which makes them ideal for all types of landscape wall applications. You can choose from colors such as gray, black, brown and beige. Read More About Celtic Walls »


Engineered Walls
Engineered walls are also referred to as retaining walls. These structures are very different from standard garden walls or boundary walls. An engineered wall helps prevent soil erosion and mudslides in the landscape. It can also be used to elevate various areas for improved channeling of water while at the same time demarcating and creating functional spaces. We provide excellent custom retaining wall design & installation services. While concrete masonry units are commonly used in the construction of these features, we can also build them using natural stone, brick, concrete, and wood. The use of the best materials and craftsmanship ensures that the features will be strong and resilient. Read More About Engineered Walls »


Fire Pits
A fire pit can easily become the focal point of your landscaping. But for that, you need an experienced company like ours to manage the project. The fire pit designs we provide are the perfect mix of functionality and beauty and the designers make sure that the feature's styling complements the architecture of your home. A fire pit is a great option because it has a small footprint and can fit in beautifully in compact yards and patios. We will also design the area around the fire pit and build seating walls to accommodate guests and family. Since we customize the feature for you, the size, materials, and styling will be matched to your needs and budget. Read More About Fire Pits »


Landscape Design
If you have outdoor areas on your property, it's natural for you to want to use them productively. While most property owners recognize the need to design these areas well, they wonder whether it's necessary to hire a professional landscape designer for the job. We provide professional landscape design services that help create a seamless look in the yard spaces. Our designs are functional, resilient and aesthetically appealing. We keep form and function in view while designing these spaces and ensure that the features require very minimal maintenance. Read More About Landscape Design »


Landscape Lighting
Outdoor lighting installation is the best way to transform your yard into perfect evening entertaining zones. If you want to use your landscape optimally in the evening and night hours, it needs adequate illumination. We handle outdoor lighting for new landscapes and expertly manage landscape lighting upgrade projects as well. Our experienced exterior lighting professionals will discuss your requirements, present plans and ideas to showcase your property in the best light. Read More About Landscape Lighting »


Drainage
Drainage is one of the most crucial aspects of a landscape project. A well-designed and expertly planned drainage system can eliminate pooling and flooding problems; it can also have a positive impact on the growth of your lawns and plants. We use a combination of drainage systems such as French drains, channel drains and area drains. Not only that will all these systems be planned perfectly, but top-quality materials and workmanship will be used in the project. This ensures the systems are strong, durable and provide optimal service. We design and build drainage features will help prevent flooding in your landscape and damage to the outdoor features. Read More About Drainage »


Pavers
Pavers are an excellent flooring material option for spaces like driveways, pathways, patios, and decks etc. Paver stones come in a number of different materials such as brick, natural stone, and concrete. You can choose something that suits you're design aesthetic and budget. We handle the paver installation expertly, making sure that the base of compacted sand is installed well before the paving process begins. We will sand the joints and seal the surface so your paved feature stays well protected from climatic changes and wear and tear. We can create interesting patterns and designs in the landscape using pavers of different types. Read More About Pavers »


Water Features
The water element adds tranquility to the landscape and overall appearance and appeal of your home. In fact, we have created Zen-like waterfalls and rock streams for our customers in and around Prescott, Camp Verde, Chino Valley and Cottonwood, AZ. We also have a large number of customers across Prescott Valley, Sedona, Skull Valley and Verde Valley and we have installed ponds and reflecting pools on their properties. Read More About Water Features »

We at Autumn Blaze Construction can provide excellent landscaping and hardscaping services that will lend support and add to the beauty of your landscape. For more details, feel free to call us at 928-710-4210. You can also request a free online estimate or consultation via this form on our site. We'll call you to discuss the details of your project and what the cost will be.