Retaining Walls in Prescott Valley, AZ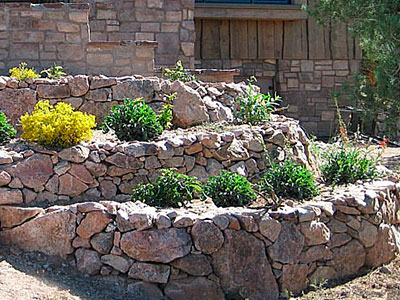 Autumn Blaze Construction, LLC, proudly serves Prescott Valley and its surrounding areas with top-tier services. Our offerings include the construction of boulder walls, Celtic walls, and engineered walls. With a focus on quality and reliability, we bring your outdoor visions to life with expertise and precision.

Our commitment to cost-effectiveness ensures you receive exceptional value for your investment. We can help elevate outdoor spaces with durable, aesthetically pleasing, and budget-conscious hardscaping solutions.


Boulder Walls
Boulder walls embody natural beauty and structural strength, adding a rugged elegance to diverse landscapes. We specialize in crafting Boulder Walls that seamlessly blend aesthetics with functionality. These robust structures find their place in various outdoor settings, from terraced gardens to retaining walls along slopes.

Our commitment to excellence extends to the materials we use. We carefully select high-quality stones for their durability and visual appeal, ensuring each Boulder Wall harmonizes with its surroundings. With our skilled craftsmen at the helm, we meticulously construct walls that withstand the test of time, holding their form and stability even in challenging conditions.

Boulder walls capture the essence of nature's artistry, as each stone contributes a unique texture and character. Whether employed for functional purposes or to create stunning visual focal points, our Boulder Walls become enduring features that redefine landscapes while serving as a testament to our dedication to quality craftsmanship.


Celtic Walls
Celtic Walls boast intricate patterns and interwoven designs, a homage to the rich cultural heritage they represent. These walls serve as functional barriers and enhance the aesthetic allure of gardens, pathways, and outdoor areas. Our approach to Celtic Wall design begins with a deep appreciation for the historical significance of the patterns. We meticulously incorporate these motifs into our designs, ensuring they retain authenticity while harmonizing with the landscape.

With skilled artisans and advanced construction methods, we bring these designs to life, creating walls that are as resilient as they are visually captivating. We can design and build walls that add a touch of timeless charm to your outdoor spaces. Our commitment to design excellence and meticulous construction ensures each Celtic wall becomes a testament to your appreciation of artistry and craftsmanship.


Engineered Walls
Engineered Walls, often called retaining walls, are designed to retain soil and provide structural support. However, these walls are far from ordinary; they harmonize with the environment while serving essential functions. Engineered Walls find their place in many outdoor settings, creating level spaces, preventing soil erosion, and adding depth and character to landscapes.

In the modern hardscaping industry, these structures are versatile masterpieces, seamlessly combining practicality with aesthetic elegance. We offer engineered Walls that transcend the ordinary, enhancing outdoor spaces with their structural integrity and visual appeal.

These walls transform steep or uneven terrains into multi-level gardens. These walls provide a stable foundation for planting, allowing for optimal space utilization and creating visually captivating gardens.

They also help prevent soil erosion on slopes and embankments, maintaining the integrity of landscapes. They are essential for avoiding landslides, particularly in areas prone to heavy rainfall or unstable ground conditions.


High-Quality Landscape Walls
When it comes to the construction of landscape walls of exceptional quality, the expertise of seasoned professionals is paramount. We bring a wealth of experience to these intricate hardscaping projects. Our skilled team is well-versed in crafting durable and visually appealing walls that seamlessly integrate into your landscape.

If you are looking for high-quality boulder walls, Celtic walls, or engineered walls, you need experienced professionals handling the job. We offer these and many other hardscaping services, and you can call Autumn Blaze Construction, LLC at 928-710-4210 or email us through this Online Form.