Chino Valley, AZ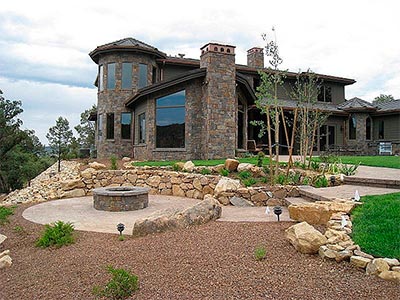 Autumn Blaze Construction, LLC is a leading landscaping company in Chino Valley, AZ. We use our skills and experience to provide top-notch services, including landscape design and hardscape installations, fire pits, and engineered walls. We have the knowledge, expertise, and resources needed to offer custom solutions to our clients. Our high-grade services come at cost-effective price points, ensuring that our clients get excellent value for money when they hire us.


Engineered Walls
Most landscapes have freestanding masonry and concrete retaining walls. These are custom-built structures that enhance the natural beauty of your outdoor surroundings. We excel in retaining wall construction and handle projects of all shapes and sizes. Integrating engineered retaining walls into strategic areas serves a variety of purposes. They support the landscape and provide a shift in level in the garden, adding depth and interest. We may also use block walls to increase the ground level over the surrounding landscape on flat terrain.

A well-engineered and well-constructed retaining wall will significantly increase the value of your property. Additionally, it provides a layer of support in extreme rainfall and helps prevent soil erosion and rockslides. Concrete block retaining wall construction is gaining popularity due to its attractive appearance and variation in styling. The single-wall structure takes up less space while providing maximum strength. We provide custom-designed and standard solutions.


Fire Pits
When the weather turns chilly, outdoor fire pits enable you to enjoy your landscape fully. Additionally, these elements serve as a focal point and a magnificent addition to your garden, enhancing its look and attractiveness. Planning this element and the area surrounding it lets you maximize your property's usage outdoors, even during the cold months. We build and construct customized fire pits to transform your backyard environment into a comfortable and welcoming relaxation spot.

Our fire pit designs strike the ideal balance between function and beauty. The designers will make sure that the fire pit complements the architectural components of your property. We will assist you in enhancing your outdoor living spaces with something genuinely elegant and stunning. Our designers will recommend the best materials and products depending on your landscape theme and features. In addition to designing the fire pit, we can also plan the seating areas and paving in that area to create a complete and cohesive look.


Landscape Design
If your home has exterior areas, you want to make the most of them. While most homeowners understand the importance of adequately planning these spaces, they often worry if engaging expert landscape design services is necessary. Professional landscaping ties your house to its outside areas, connects it to its local environment, and creates an appealing and welcoming entry to your property.

Our landscape designers have training in aesthetics, technology, and ecology, enabling them to optimize your outdoor spaces' potential. We have always placed a premium on measures that promote thriving landscapes. From choosing the ideal plants and trees to including the necessary irrigation and drainage elements, we focus our efforts have on building and planning garden areas that are both functional and low maintenance.

We ensure that every area of the work meets your requirements and that you have superior walls and other hardscaping components that enhance the aesthetics and usefulness of your property. If you are looking for high-grade engineered walls, fire pits, and superb landscape design, you are at the right place.

At Autumn Blaze Construction, LLC, we cater to clients in and around Chino Valley, AZ, offering customized landscaping and hardscaping solutions that provide excellent value. For additional information, please call us at this number - 928-710-4210 or drop us a line through this Online Form, and we will call you shortly.