Drainage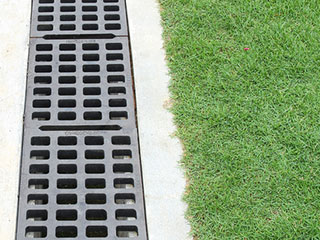 When it rains, or if your landscape irrigation system isn't planned well, you can be left with standing water in various areas of your landscape. Areas that can become affected include the patio, walkways, pathways, flower beds and even your home's basement and foundation. Drainage is one of the most vital aspects of landscaping. A well-designed and expertly installed drainage system can eliminate flooding problems; it can also affect how your lawns and plants grow.

Heavy rains can quickly determine which areas of your landscape or around your home need help in draining the water to the city mains outside your property. Autumn Blaze Construction can handle all types of drainage design and installation. We are very conscientious in the way we run our business.

This is why we have been able to build a very strong customer base in and around Prescott, Prescott Valley, and Skull Valley. Word of our expertise has reached customers in Chino Valley, Verde Valley, Sedona, and Cottonwood. We have successfully completed a significant number of landscape drainage construction projects here too.


Custom Garden Drainage Design
We also serve clients in Camp Verde, Black Canyon Valley, Anthem, and the surrounding areas. The yard drainage systems we have built on properties here have helped create healthier landscapes with no flooding problems. Our experts can efficiently determine drainage solutions based on the specific needs of your property.

If you need landscape drain pipes installed in a new landscape, they will inspect the area and suggest a cost-effective design. We have the expertise to help you extend or refurbish an existing drainage system as well. We can also design perfect solutions that will keep the household gutter downspouts and rainwater runoff away from your home's basement areas and foundation.


Types of Landscape Drains
The plan we draw for you will be custom-designed to meet your particular needs. A combination of different types of drains could be installed such as:


French Drains - Most landscaped areas have raised planters that need proper drainage; this ensures all the water gets directed towards the exterior of your property. A French drain is covered with landscape fabric and stones and rocks and placed above it to improve the ground's permeability.


Area Drains - These installations are quite simple in design while being very effective in draining excess water from your landscape. They are an ideal solution for the low-lying areas in your garden or yard.


Channel Drains - These drains are installed for handling lawn & patio run-off; they are very effective in channeling water away from pathways, walkways and driveway spaces.
Landscape Drainage Cost
Not only will all the drainage systems be planned expertly, but the best materials and craftsmanship will be used in the work. This helps ensure the systems are resilient and sturdy and provide years of trouble-free service. Autumn Blaze Construction can design and build drainage systems that will help prevent flooding on your property and damage to the outdoor features.

For more details, feel free to call us at 928-710-4210. You can also request a free online estimate or consultation via this form on our site. We'll call you to discuss the details of your project and what the drainage installation cost will be.