Retaining Walls in Prescott, AZ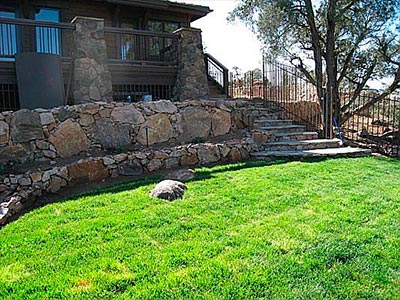 If you're planning to install boundary or retaining walls on your property in Prescott, AZ, Autumn Blaze Construction, LLC is the company to call. With years of experience in designing and building high-quality custom walls, you can trust us to deliver durable and impressive structures.


Retaining Walls
Soil erosion issues or sloping ground on your property can pose a landscaping challenge and compromise your outdoor spaces' safety and usability. It's why you should consider building retaining walls on your premises. The structures support the ground and dirt and serves to demarcate zones to maximize the usage of available space. We use high-grade Belgard products in our work, and you can choose from numerous retaining wall styles.

Our company is fully capable of handling all aspects of retaining wall planning and design. We ensure that the components we design and construct for you are of the highest quality. The experts will discuss material alternatives with you and give you all the necessary information on the many kinds of concrete masonry units and natural stones used for the feature.


Boulder Walls
Regardless of the scope of the landscaping project, we can provide informed guidance and professional workmanship. We offer a range of landscaping boulder wall options and can execute the project using various materials, including Sandstone, Travertine, Granite, Flagstone, and Bluestone. No task is too small or complex for our skilled staff, and we handle single wall to boundary walls and multi-tiered structure constructions with equal expertise.

We make every effort to tailor your project to your specifications, so you can be confident that the walls will match your landscape design. If you're interested in incorporating a unique element into your landscape, contact us. Our consultant will conduct in-depth discussions to ascertain your objectives and vision to offer designs and strategies that satisfy those objectives.


Celtic Walls
Many homeowners choose to have retaining walls constructed on their property. They serve an aesthetic function in certain situations and help prevent soil erosion while providing support to sloping or terraced parts of a landscape. The walls we've constructed on these properties have given their landscape a unique character. Celtic wall blocks are an excellent choice if you want these features to have a Scottish or traditional Irish look. These blocks have a rough, uneven finish that gives them a hand-cut feel and resembles genuine stone.

We use top-of-the-line Celtic masonry wall components. It's not always easy to distinguish between genuine natural stone and these imitations. This fact implies that artificial stone can be used to create a rich and elegant effect in your landscape for a fraction of the cost of genuine stone. What matters is that this lower price does not come at the expense of robustness or durability. Celtic wall blocks come in various sizes and hues, making them ideal for multiple landscape wall applications. You can choose from shades, including grey, black, brown, and beige.

Our experience in hardscape installation enables us to create backyard walls that look stunning and serve their purpose well. We are a fully licensed and insured company dedicated to providing our clients with high-quality work at an affordable price. We can design and construct walls that provide stability and enhance the aesthetics of your outdoor areas.

If you are looking for high-grade retaining walls, boulder walls, or Celtic walls, you are at the right place. At Autumn Blaze Construction, LLC, we cater to clients in and around Prescott, AZ, offering customized landscaping and hardscaping solutions that provide actual value. For additional information, please call us at this number - 928-710-4210 or drop us a line through this Online Form, and we will contact you shortly.