Landscape Lighting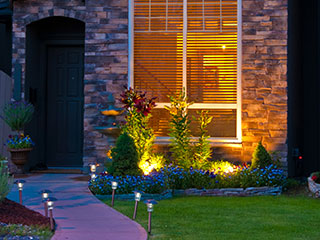 Outdoor lighting is an excellent way to transform your outdoor spaces into fabulous evening entertaining zones. The only way to enjoy your backyard after dark is to make sure that it has sufficient illumination. Autumn Blaze Construction provides custom exterior lighting solutions to customers across the region.

We are very conscientious in the way we run our business. This is why we have been able to build a very strong customer base in and around Prescott, Prescott Valley, and Skull Valley. Word of our expertise has reached customers in Chino Valley, Verde Valley, Sedona, and Cottonwood. We have successfully completed a significant number of landscape lighting projects here too.

Our company also serves clients in Camp Verde, Black Canyon Valley, Anthem, and the surrounding areas. The outdoor lighting systems we have installed in landscapes here have added to the value, safety, and beauty of these properties. We follow a specific work process in every landscape lighting project we take up:


Property Survey For Outdoor Lighting
When you make the decision to hire our landscape lighting services, the project starts with a free site survey and consultation. We like to make sure your entire experience with our company is exceptional.
Having our exterior lighting designers take time to consult with you allows us to clearly understand your needs. This helps ensure that your requirements are met and expectations exceeded on all counts.
The designers will first walk your property with you and understand what your vision is.
They will then recommend elements and features they feel should be highlighted in the landscape and will go over lighting fixture placement with you.
You will be provided comprehensive custom yard lighting design plan that best suits your vision and property.

Our design expertise and services aren't restricted to new landscape projects. We can also transform the appearance of your current landscape, using new techniques and outdoor lighting concepts.


Outdoor Lights Installation
Following approval of the custom design plan, the installation process takes place with very little disruption to your existing landscape features. Our experts install the outdoor lighting system to meet your expectations and vision. On-site supervisors are present throughout to installation process making sure you are well informed of the progress and answering any specific questions you may have.


Energy-Efficient Landscape Fixtures
You can enjoy your yard spaces after dark with cost-efficient low-voltage outdoor lighting systems. We recommend the use of LED bulbs that are 80% more energy-efficient than standard halogen bulbs. They emit much greater amounts of illumination and can last for over a decade. Our outdoor lighting design solutions are built specifically to best meet your function and aesthetic needs.

We give you stunning outdoor lighting ideas to enhance the different outdoor living areas after dark, creating the perfect balance between a pleasing aesthetic and practicality. Autumn Blaze Construction can design and install garden lighting that will provide the illumination you want, and add to the beauty of your landscape. For more details, feel free to call us at 928-710-4210. You can also request a free online estimate or consultation via this form on our site. We'll call you to discuss the details of your project and what the landscape lighting cost will be.