Fire Pits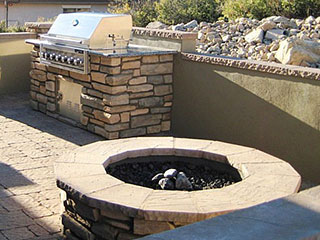 Outdoor fire pits allow you to continue enjoying your landscape when the weather turns cool. These features also create a focal point and a stunning accent to enhance the appearance and appeal of your yard. Planning this feature and the area around it well allows you to make optimum use of the outdoor spaces of your property even during the winter months. Autumn Blaze Construction provides custom fire pit design and installation services.

We are very conscientious in the way we run our business. This is why we have been able to build a very strong customer base in and around Prescott, Prescott Valley, and Skull Valley. Word of our expertise has reached customers in Chino Valley, Verde Valley, Sedona and Cottonwood. We have successfully completed a significant number of stone fire pit construction projects here too.

Our company also serves clients in Camp Verde, Black Canyon Valley, Anthem, and the surrounding areas. The fire features our experts have built on properties here have added a distinct charm and functionality to the landscaping. Our custom-designed fire pits are created with the most sound & solid design; constructing foundations and walls durably, and providing the fire safety you can always rely on.


Functional Fire Pit Designs
A fire pit can become the focal point of your backyard landscape. But in order for that to happen, you need a company like ours to handle the project. Our fire pit designs are the perfect blend of functionality and aesthetics. The designers will ensure that the fire pit styling complements the architectural elements of your home. We will help you add something truly luxurious & spectacular to your inviting and cozy outdoor living areas.


Benefits Of Fire Pits
There are a number of benefits to getting a stone fire pit installed on your property such as:


Entertaining Friends - Nothing adds to your summertime patio parties like a custom-designed fire pit. When integrated into thoughtfully designed landscape concepts, an outdoor fire pit extends your available party space from the indoors to the outdoors.
Outdoor Cooking Source - It's always a pleasure to serve some grilled foods to your guests. Why worry about shuttling back and forth from the indoor kitchen to the yard when you can easily get a fire grate installed on the fireplace?
Warm And Cozy Atmosphere - Since you don't have to rely on the warm summer air, a fire pit allows you to host outdoor parties and gatherings much earlier in the year. Any clear night can easily be turned into an outdoor party zone when you have a crackling fire going in your yard.

Regardless of whether you plan on throwing many parties in the yard or not, a fire pit is often appreciated just for its classic beauty. We use the best materials and workmanship so you are assured of top quality installations that will provide years of trouble-free service.

Autumn Blaze Construction can design and build outdoor fire pits that will add to the beauty and comfort of your landscape. For more details, feel free to call us at 928-710-4210. You can also request a free online estimate or consultation via this form on our site. We'll call you to discuss the details of your project and what the fire pit cost will be.