Engineered Walls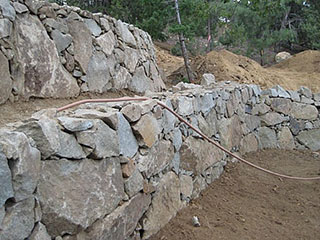 Freestanding walls and concrete retaining walls are part of most landscapes. These are specially-engineered structures that add natural beauty to your outdoor spaces. We at Autumn Blaze Construction provide excellent retaining wall construction services. We are very conscientious in the way we run our business. This is why our company has been able to build a very strong customer base in and around Prescott, Prescott Valley, and Skull Valley.

Word of our expertise has reached customers in Chino Valley, Verde Valley, Sedona and Cottonwood. We have successfully completed a significant number of engineered wall construction projects here too. We also serve clients in Camp Verde, Black Canyon Valley, Anthem, and the surrounding areas. Our segmental retaining walls are the perfect addition to your new landscape design project. Their ease of maintenance and durability make them a great choice for any setting.


What Is The Function Of Retaining Walls?
When developing landscapes for our clients, we recommend the addition of engineered retaining walls at strategic locations and they serve various functions such as:


Support the landscape and create a change in levels to develop some dimension and interest in the garden.
Retaining wall blocks may also be installed on flat ground to raise the level above the surrounding landscaping.
Well-designed engineered walls can also be used to elevate different areas for improved drainage and channeling of water while at the same time creating a functional space. Our retaining wall service provides adequate design & installation of these features.
A specially engineered, well-built retaining wall will add significant value to your property. Aside from this, it adds an extra layer of support in case of excessive rainfall and helps prevent soil erosion and mudslides.
A retaining wall will lend an air of elegance and sophistication to your landscape, accenting certain features that often remain unnoticed in flat landscapes.
These walls are typically built for preventing erosion in rocky/uneven ground, but many clients also get these installations for decorative purposes.
We will expertly shape the ground and install the engineered wall. The feature will lend stability and resilience to the outdoor spaces and create a stunning focal point that alters the appearance of your landscape in a dramatic way.
Choosing The Right Retaining Wall Material
Materials that are popularly used for retaining walls include those that can either contrast or blend with the home's architecture. Natural stone, concrete blocks, bricks and other modular blocks provide great resilience and durability. When you work with our experts to select a suitable material and style, you can refresh an existing landscape in a number of interesting ways. Concrete block retaining wall structures are growing in popularity due to their aesthetic appeal and availability in forms and colors.

The single-wall construction has a small footprint while achieving optimum strength. We provide custom engineered design and installation solutions. Whether you want these walls built in a new landscape or as part of a yard upgrade project, we can provide the best services at the most competitive pricing.

Autumn Blaze Construction can design and build walls that will lend support and add to the beauty of your landscape. For more details, feel free to call us at 928-710-4210. You can also request a free online estimate or consultation via this form on our site. We'll call you to discuss the details of your project and what the engineered wall installation cost will be.