Boulder Walls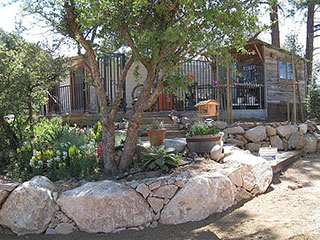 If you're considering building rock walls on your property in Camp Verde, Black Canyon Valley, Anthem, and the surrounding areas, we are the company to call. With years of experience in the design and build of high-quality boulder walls, you can trust our expert landscapers to deliver long-lasting results.

We at Autumn Blaze Construction are very conscientious in the way we run our business. This is why we have been able to build a very strong customer base in and around Prescott, Prescott Valley, and Skull Valley. Word of our expertise has reached customers in Chino Valley, Verde Valley, Sedona, and Cottonwood. We have successfully completed a significant number of stone wall construction projects here too.


Materials For Boulder Walls
Whatever the size of your landscaping project, we can provide you with very sound advice and high-quality workmanship. We offer a variety of landscape rock wall solutions and can complete the construction in materials such as:


Sandstone - random or liner style
Granite
Travertine
Bluestone
Flagstone
Other

From a single wall to boundary walls and a multi-terraced structure, no task is too small or too big for our expert team to handle. We work very hard to customize your project; so you can rest assured that the walls will complement your landscape design. If you are looking to add a special feature to your landscape, all you have to do is call us. Our consultant will have detailed discussions with you to understand your ideas and vision to deliver designs and plans that meet those needs.

We are committed to providing our clients value for money and we'll finish your boulder wall project on schedule and to budget. The best-grade boulders and other masonry products and materials will be used in the work. This helps ensure you get long-lasting features that create the design aesthetic you want.


Custom Boulder Wall Construction
From a free on-site consultation and quote to efficiently constructing attractive and safe yard boulder walls, our reliable team is committed to delivering an outstanding, hassle-free client experience. Every job is completed meticulously, and our on-site supervisors make sure that the work is completed to industry standards. Not only are you assured of the best wall construction, but will find that we work to your budget and timeline, delivering a top-quality product you'll love.

Our company also specializes in the precision construction of boulder walls for formal laying and architectural landscape design, as well as in tricky areas that require expert skills knowledge. We are a fully-licensed, insured and bonded company that delivers excellent quality work for our customers at a great price.

Autumn Blaze Construction can design and build boulder walls that will lend support and add to the beauty of your landscape. For more details, feel free to call us at 928-710-4210. You can also request a free online estimate or consultation via this form on our site. We'll call you to discuss the details of your project and what the boulder wall installation cost will be.