Celtic Walls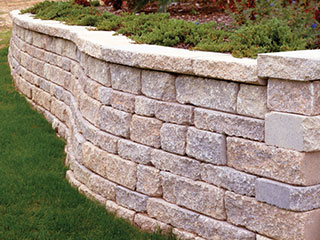 Many people like to get retaining walls built on their property. In certain settings, they serve a purely aesthetic purpose, while in others they help prevent soil erosion and provide support to sloping or terraced areas of a landscape. Regardless of why you want these structures built on your property, you need to ensure they are designed well and installed expertly.

We at Autumn Blaze Construction are very conscientious in the way we run our business. This is why we have been able to build a very strong customer base in and around Prescott, Prescott Valley, and Skull Valley. Word of our expertise has reached customers in Chino Valley, Verde Valley, Sedona, and Cottonwood. We have successfully completed a significant number of Celtic wall construction projects here too.

Our company also serves clients in Camp Verde, Black Canyon Valley, Anthem, and the surrounding areas. The walls we have built on properties here have added a distinct charm to the landscaping. If you want to give the walls on your property a Scottish or old-school Irish finish, Celtic wall blocks are the ideal option for you. The rough, uneven finish of these blocks lends them a hand-cut appearance and they mimic the natural look of stone.


Custom Celtic Wall Design
We use high-quality Celtic masonry wall units. It's isn't easy to tell the difference between real natural stone and these products. This means it's possible to achieve a rich and luxurious look in your landscape at a lower price tag than natural stone. What's important is that this lower price tag comes with no compromise on resilience or durability. Celtic wall blocks are available in a range of sizes and colors which makes them perfect for all kinds of landscape wall applications. The different colors you can choose from include gray, black, brown and beige, etc.


Why Opt For Concrete Block Celtic Walls?
We recommend these products because the natural stone can be very expensive. It's also difficult to work with and this increases the overall cost of the Celtic wall construction project. The other reasons why you should opt for these structures include:


When you hire us to design and build these walls on your property, you can rest assured they will be able to endure decades of wear and tear.
The stackable cement blocks are ideal for creating something that looks beautifully natural but is very affordable too.
Concrete blocks are an excellent alternative to conventional materials like brick and stone. They're not as fragile as bricks or as heavy on the pocket as stone, which makes them the perfect option for a large number of our clientele.
Hire The Best Celtic Wall Contractors
Our expertise in hardscape installation helps ensure that your yard walls look as close to the real thing, as possible. We are a fully-licensed, insured and bonded company that delivers excellent quality work for our customers at a great price. Autumn Blaze Construction can design and build walls that will lend support and add to the beauty of your landscape.

For more details, feel free to call us at 928-710-4210. You can also request a free online estimate or consultation via this form on our site. We'll call you to discuss the details of your project and what the Celtic wall installation cost will be.