Hardscaping Services in Dewey, AZ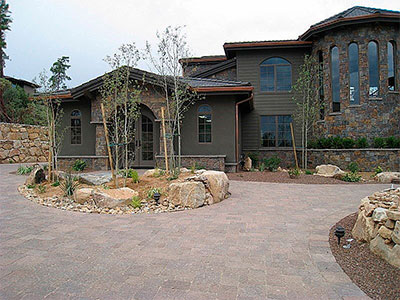 At Autumn Blaze Construction, LLC, landscaping dreams come to life. As a distinguished leader in the industry, we help elevate outdoor spaces into captivating havens of beauty and functionality. With our unwavering commitment to quality craftsmanship, innovative design, and personalized solutions, we transform landscapes, turning visions into reality.

From stunning landscape designs and expertly crafted hardscaping installations to the warm glow of fire pits and the enchantment of landscape lighting, we bring excellence to every project. Explore the limitless outdoor living possibilities in Dewey, AZ, with us as your trusted partner.


Fire Pits
Our fire pit services redefine outdoor living, infusing warmth and ambiance into your space. We offer various fire pit options, including wood-burning and gas-powered variants, each designed to create captivating focal points for your gatherings.

Our team employs a wide range of high-quality materials, from natural stone to durable metal, ensuring fire pits that withstand the test of time and enhance your landscape's aesthetics.

Embracing custom design, we collaborate closely to understand your preferences and tailor fire pit solutions that seamlessly integrate with your outdoor vision. With us, your fire pit becomes more than just a source of warmth; it's a personalized piece of art that transforms evenings into unforgettable experiences.


Landscape Design
Landscape Design is an art, and we specialize in crafting outdoor masterpieces that reflect your vision. Our creative and detailed approach ensures landscapes that captivate the senses and harmonize with their surroundings. Perfect planning transforms open spaces into personalized realms of beauty and functionality.

Our team collaborates closely to understand your preferences, incorporating elements that resonate with your lifestyle. From lush gardens to tranquil water features, we consider every detail meticulously.

Our professionals bring a wealth of experience and creativity to every project. With a keen eye for design, they artfully blend elements to create landscapes that leave a lasting impression. Their proficiency extends to projects of all scales, from intricate details in small spaces to comprehensive transformations of expansive landscapes.

Tailored solutions are at the core of our design philosophy, ensuring that each landscape is unique, reflecting the individuality of its owners. Choose us to turn your outdoor dreams into a reality that promises to enchant, inspire, and provide lasting joy.


Landscape Lighting
Landscape Lighting extends the beauty of outdoor spaces into the night. We offer superior landscape lighting solutions to redefine outdoor living after sunset. We excel in captivating crafting nightscapes through meticulous planning, precise fitting, and high-quality lighting products.

Our expertise goes beyond functionality; it encompasses the art of creating ambiance and enhancing the aesthetic appeal of your landscape. Whether outlining pathways, accentuating architectural features, or creating a magical atmosphere, our team understands the nuances of light to paint nightscapes that delight the senses.

Our commitment to timely completion ensures that your landscape is transformed with minimal disruption. With our skills, your outdoor spaces become enchanting realms that transition seamlessly from day to night, offering an immersive experience that embodies elegance and comfort.


Customized Landscaping Services
Our hands-on approach ensures that every aspect is handled with precision and care, no matter how minute. As seasoned experts, they harness their creativity to craft outdoor spaces that resonate with your vision while incorporating practical solutions for seamless functionality. With a dedication to excellence, our professionals transcend the ordinary, breathing life into your landscape dreams and making them a vivid reality.

We offer these and many other hardscaping services in Dewey, AZ, and you can call Autumn Blaze Construction, LLC at 928-710-4210 or email us through this Online Form. Our company will ensure that your outdoor spaces and the lighting elements reflect your style and meet your needs while being within your budget.