Landscape Design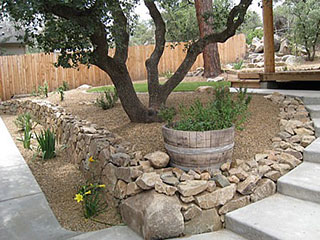 If you have outdoor spaces on your property, you want to be able to make optimum use of them. While most homeowners recognize the need to plan these areas well, they often wonder whether hiring professional landscape designers is really necessary.

Professional landscaping anchors your house to the outdoor spaces, connects it with the immediate environment and creates a very welcoming and appealing entrance to a home. Autumn Blaze Construction provides custom landscape design solutions. We are very particular in the way we run our business. This is why we have been able to build a very strong customer base in and around Prescott, Prescott Valley, and Skull Valley.

Word of our expertise has reached customers in Chino Valley, Verde Valley, Sedona, and Cottonwood. We have successfully completed a significant number of landscape design projects here too. Our company also serves clients in Camp Verde, Black Canyon Valley, Anthem, and the surrounding areas. The landscapes we have designed for customers here have added a distinct charm and value to their properties.


How Our Landscape Design Team Can Help
Our landscaping designers have aesthetic, technical and ecological training, which helps them skillfully maximize the potential of your outdoor spaces. There are a number of functions they manage such as:


Keeping in mind aspects of functionality and style our experts analyze your yard and home's architecture to produce detailed plans. These plans include features such as driveway, pathways, walkways, a patio, fire features, water features and outdoor living structures as per your particular requirements.
They will carefully assess your geographic location to choose plantings, shrubs, and trees that will flourish naturally.
The team will address concerns such as soil conditions, screening and drainage too.
Since we are a full-service landscape design and installation company, our designers also have an important role to play when the installation work is in progress. They will oversee the progress of the work and provide inputs as required.
We always focus on practices that emphasize landscapes that thrive. From selecting the perfect plants and trees to placing the appropriate irrigation and drainage features, our efforts have been directed to designing and planning garden spaces that are successful without too much maintenance.
Custom Landscape Design Concepts
In short, our landscape design team will work closely with you to ensure your ideas and vision are given form. They will focus on creating a well-balanced landscape with all the right features, and tie in all these elements skillfully,

We create a full master plan for your outdoor spaces and our experts are proficient in providing our clients plans and design themes that range from contemporary, Mediterranean, tropical, French, Napa Valley, to modern.

Autumn Blaze Construction can design landscapes that will add to the beauty of your landscape. For more details, feel free to call us at 928-710-4210. You can also request a free online estimate or consultation via this form on our site. We'll call you to discuss the details of your project and what the landscape design cost will be.